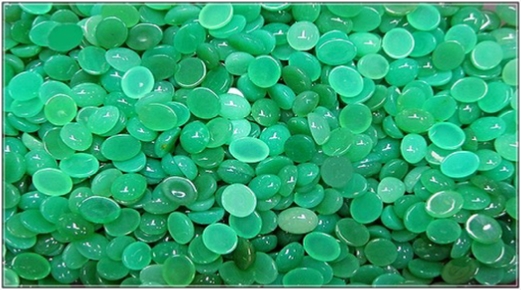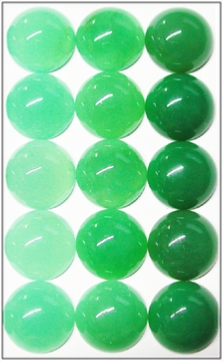 These stones were cut and polished in the 1960's and 1970's from rough that had been extracted from the original Chrysoprase mine at Marlborough, Queensland, Australia.
Queensland Chrysoprase is considered being the best from anywhere.
These stones are clean/cleanish and supplied in mixed shades, as per photo on the right, but NOT in those proportions; 1/3 of each shade!
Any purchase will comprise mostly the two lighter shades and only a very few of the real dark coloured ones, but this vary between sizes.
Postage is US$15.00
Prices are negotiable for quantities in the 1,000's, mixed sizes are OK
The above shows the basic shades of colour, but not the proportions of colour shades we sell as "mixed".
Note: Any one of these three basic shades can be selected out and supplied, but a selection price applies.
A photo of the selected stones will be supplied for approval prior to payment.
This page will have other products added in the future,
at export/wholesale or clearing out prices.
So please keep an eye on this page.
It could be rewarding!








Wholesale & Stock Clearance Lots
Suppliers of; Opal, Sapphire, Chrysoprase, Ruby, Coral Beads, Coral Carvings, Jewellery, Opal Carvings, Turquoise, Opal Watches, Argyle Champagne Diamonds